Acopa Dual-Sided Flight Paddle with Square Tasting Bowls - 3/Case
Item #: 303BWSQDUAL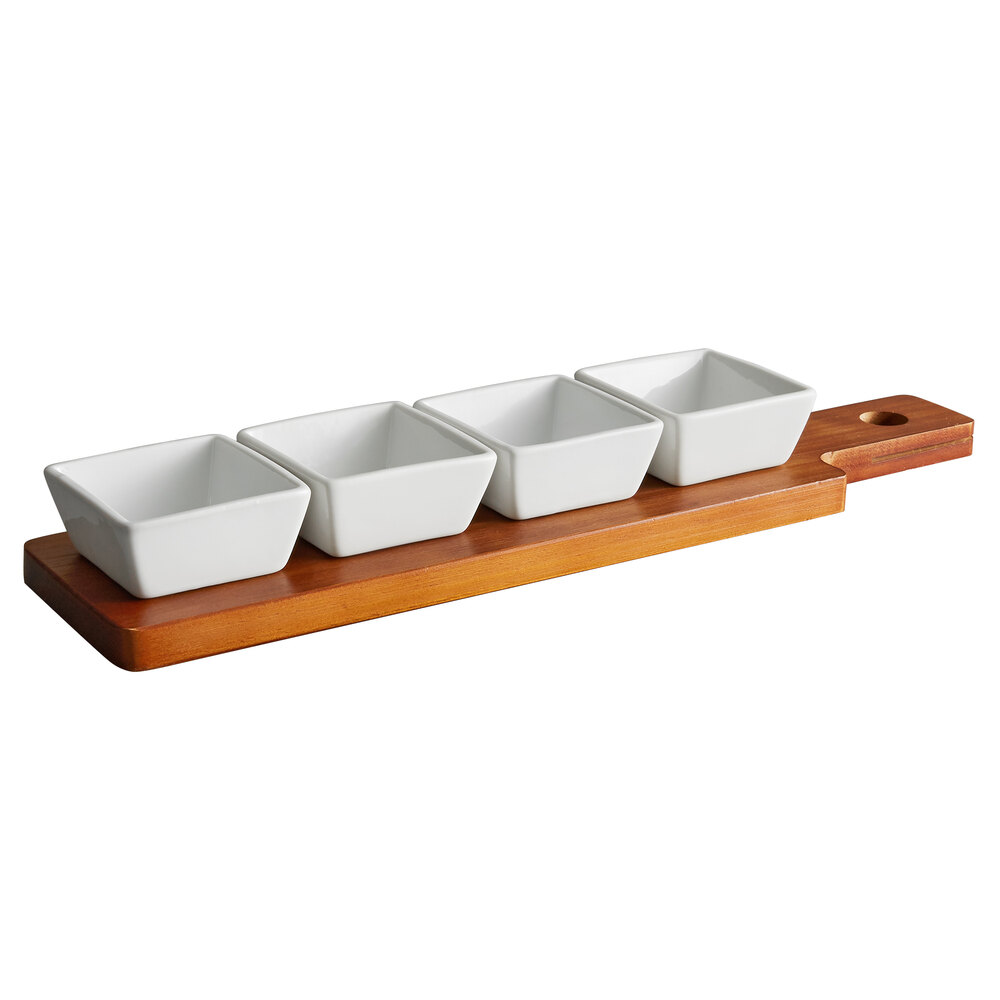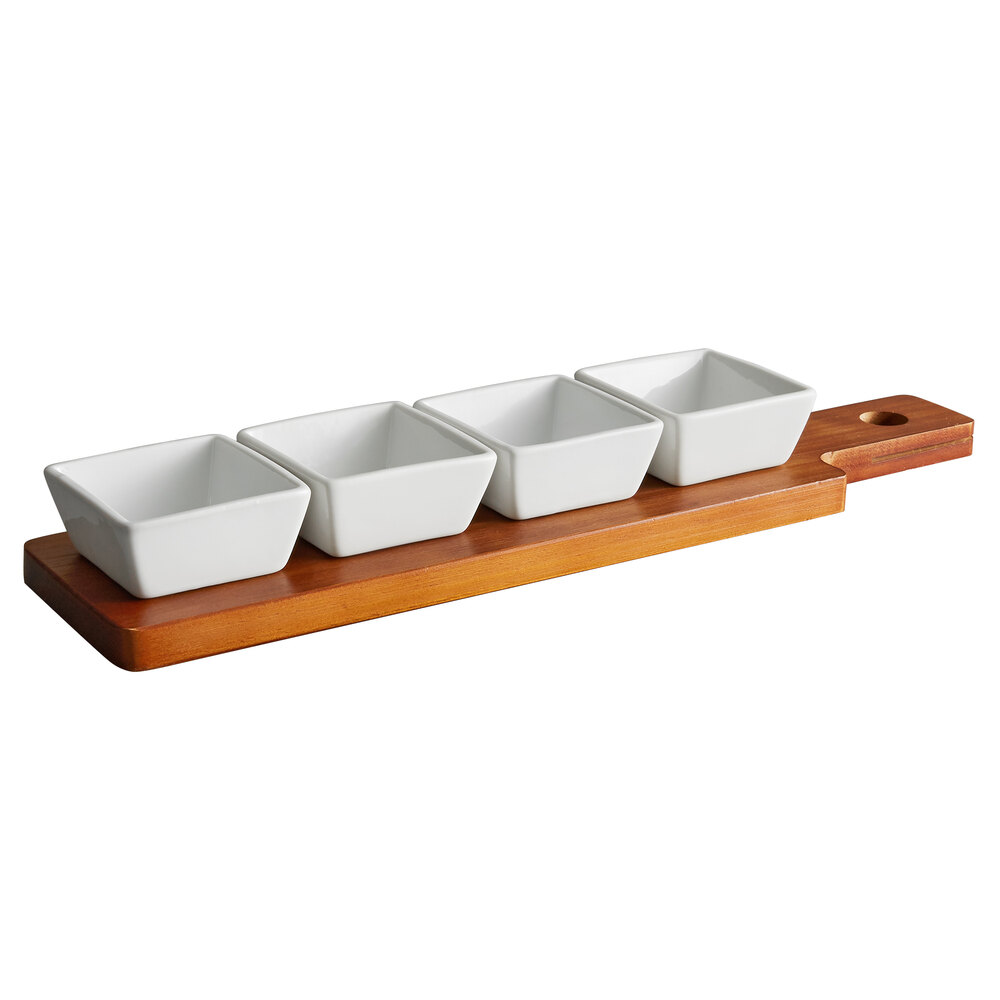 Your customers want variety, and that's exactly what this tasting kit delivers! Including a dual-sided paddle that supports a variety of glassware in different shapes and sizes, as well as four porcelain square bowls. Perfect for creative special presentations, taste-testing finger foods, serving up miniature selections of your signature appetizers and desserts, displaying different types of beers for happy hour, or fulfilling any number of creative inclinations, this flight paddle will never fail to impress. No matter what you'd like to serve, this flight paddle kit will help you define your niche and create a unique atmosphere that your guests will remember.
Buy Now
Includes 3 paddles and 12 tasting bowls to make 3 flight sets
Use to serve a single portion appetizer, a dessert, create your own sampler platters, or condiments
Bowls are made of durable porcelain
Dual-sided walnut paddles offer a variety of uses and save space in the kitchen
Adds a modern touch and draws customers' attention with a unique presentation
| | |
| --- | --- |
| Length | 14 Inches |
| Bottom Length | 2 Inches |
| Bowl Length | 3 Inches |
| Tray Length | 16.9375 Inches |
| Bottom Width | 2 Inches |
| Bowl Width | 3 Inches |
| Tray Width | 3.875 Inches |
| Bowl Height | 1.5 Inches |
| Tray Height | 0.5625 Inches |
| Capacity | 4 oz. |
| Color | Brown |
| Color | White |
| Features | Appetizer / Tasting Plate |
| Features | Dual Sided |
| Features | Lead Free |
| Finish | Walnut |
| Handle | With Handle |
| Material | Porcelain |
| Material | Wood |
| Number of Compartments | 4 Compartments |
| Shape | Rectangle |
| Shape | Square |
| Tray Material | Wood |
| Type | Serving Tray Sets |
| Type | Tasting Flight Sets |
Dual-Sided Flight Paddle
With its durable, one-piece wood construction and attractive, walnut finish, each flight paddle is certain to please. On one side, you can find round 2 1/4" diameter cut outs. Pair the paddle with round glasses and serve beer, wine or cocktail flights. This side of the paddle also features a 3-step inset to fit a variety of glass sizes. On the other side, you can find 2 1/4" square cut outs. Pair this side of the paddle with square bowls, such as those included in this kit, to serve appetizers, desserts and a variety of condiments or dips. Thanks to its thin profile and convenient hanging hole drilled into the handle, this paddle is easy to store in between uses and can be easily wiped clean with a damp cloth. Plus, each paddle has a thin slot in the handle that can be used to insert a description card for customers to differentiate their samples.
Porcelain Bowls
The bowls' 4 oz. capacity is the perfect size for sampling a variety of appetizers or personal desserts. They're made of porcelain so they're durable in addition to being an elegant touch, especially when contrasted with the walnut finish of the paddle. Their square shape provides a modern, eye-catching touch. Combined with the paddle, they offer the potential for a variety of presentations. Serve up simple finger foods like grapes, nuts, and cheese, or serve small selections of a four-course meal, including appetizer, entree, dessert, and cheese plate. Or serve up a variation on one course. For example, show off different flavors of your handmade ice creams by including a selection of your chocolate, vanilla, strawberry, and salted caramel options! From taste testing samples to sweeping artistic statements, this set is a leader when it comes to versatility.
Acopa Dual-Sided Flight Paddle with Square Tasting Bowls - 3/Case
Use Acopa tasting flights to serve sample sizes of your signature food and drinks!